Speak Up
PODCASTS FOR ENHANCING THE CUSTOMER EXPERIENCE.
Stop, Collaborate, & Listen (To Your Customers!)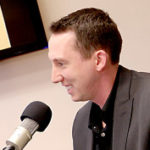 Rea & Associates interviews Nick Glimsdahl, client enablement director at VDS, to tell us more about "customer experience": what it is, why it matters, and what we can do to improve the customer experience in our own businesses. Customer experience is all about the customer's perception of a brand – it really doesn't matter what company leaders or employees think of their respected brand or experience if it conflicts with what the customer has to say.